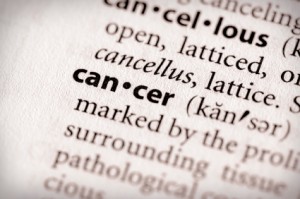 "Cancer" is a very scary word, and medical reporters around the world recognize this. They often contribute to this connotation through much of what is printed about the highly publicized condition.  However, according to reports in the Medical Journal of Australia, 41% of the printed material released about cancer contains "overly emotive language in a direct quote from a source."  A study released by Atlanta's Centers for Disease Control and Prevention in October also confirmed inconsistencies in American cancer statistics as well.
The journal cited a study conducted by Australian Public Health Postdoctoral Researcher, Amanda Wilson.  Ms. Wilson says the goal of the study, which analyzed over 1,000 news stories claiming to be about cancer, was to highlight the lack of useful information in the mainstream media's cancer coverage. But medical writers and social media aggregators may not be entirely to blame for this lack of cancer news:  the study also found that a bulk of the stories accurately represented the information which was given to them by researchers.  This media "issue" is important to McCauley Marketing Services as much of our portfolio is focused on medical writing.
"Researchers have a responsibility to present their findings to the media in a manner that increase the probability of accurate reporting," Amanda went on to add.
The CDC's data compared the cause of death codes, compiled by the International Statistical Classification of Diseases and Related Health Problems (ICD), listed on more than 200,000 death certificates with the names and conditions recorded in national cancer registries to determine if those reported as cancer deaths were in fact so.  The results of the comparison, according to the study's abstract, showed "notable difference between [cancer] confirmation and detection rates."
The CDC's study results, along with the Australian findings, suggest that there is need for improvement in not only global health public relations, but also the accuracy of data recorded by clinicians.
As McCauley Marketing Services has discussed in previous blogs, emotion is a tricky factor in medical journalism.  There has to be enough of a human element to interest readers, but not too much as to compromise the credibility of the material's copywriter.  Content creation involves the skillful collaboration of not only writers, but marketing researchers, graphic designers, and public relations specialists.  The emotional side puts a human face on often stark, medical language.
In a world where social media has put the personal on public display, it's up to marketers and journalists to strike an artful balance between human interest and news-worthiness. Stay attuned to McCauley Services' website, Facebook, and Twitter as we report on the latest development is medical marketing news.