"Individual commitment to a group effort – that's what makes a team work,
a company work, a society work, a civilization work."
– Vince Lombardi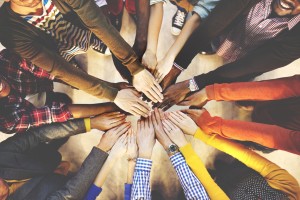 At McCauley Marketing Services we take Mr. Lombardi's words to heart on a daily basis. We get to work with such a diverse group of healthcare clients which gives us the ability to hone in on a variety of skills – including cultivating positive marketing teamwork. Recently we sat down as a team to discuss ways we ourselves can improve our team-building relationship with our clients and key reminders we wanted to share with anyone who is in the research stage of finding their future marketing team to help grow their business. Here, we agree that marketing teamwork makes the dream work – here's how:
Your Success = Our Success
One of the very first things we like to do is sit down with our clients during a marketing strategy meeting to really get a feel for who they are as a person. We're not going to make you fill out a personality quiz or share your deepest secrets, but we feel that the better we get to know a client as a person, the better we'll be able to convey their true essence to their captive audience. There can be a million professionals in the same field as you so we want to help set you apart. It can take a lot of trust to just hand over a budget to strangers, but trust us when we say: your success is our priority. Choosing a successful marketing team that has all of the tools to help you focus on your patients/clients is our goal and you shouldn't bestow this honor to just anyone! Reputation management is key when it comes to marketing so go with a team you feel best supports your mission.
Communication, Communication, Communication
This is arguably one of the most important keys to healthcare marketing success. Communication is important when identifying the client's goal and setting a plan in motion to make that happen. As a team, we can't possibly read your mind, and although we know schedules can get hectic, blocking off some time to debrief your team on the latest happenings can only service you more in the future. We're a take charge kind of group so on the flip side, it's our job to communicate anything and everything your audience is saying (the good and the bad) to make sure we aren't letting those customers/patients that are essentially helping keep us in business feel ignored and instead appreciated for their patronage. You can think of your healthcare marketing team as the eyes and ears but our voice is our client's voice and we want to make sure it's the best representation possible. If something isn't working, then tell us. Successful strategies take time to finesse, but at the very core we want to make sure our clients stay happy and will do whatever we can possibly do to help.
All Hands on Deck
We hope our clients think of us as beneficial part of their team. Having worked with some of our clients for over 15 years, they've really become more like a family. At our office we consider ourselves family and our clients an extension of that – so we really do want only the best for them because it makes us extremely proud. Trust takes time to build but once you've found the ones who genuinely have your best interest at heart, have years of experience, and proven marketing results to help you succeed, let your team work their magic and channel all of your energy into focusing on the customers/patients who matter the most!
If you'd like to explore how our team can make a difference for your business, schedule a meeting with McCauley Marketing Services today. We'd love to hear your thoughts on teamwork – connect with us on Facebook, Twitter, and Google+ to share your tips and recommendations and we look forward to working with you.