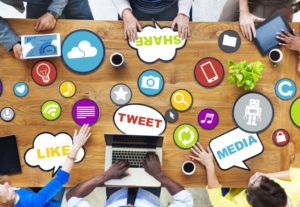 Social Media is an integral component of any online marketing strategy. Social networks like Facebook and Twitter provide simple, cheap and effective access to potential clients, consumers or patients. It's clear that when marketing your business or practice, social media will be part of the equation, but how you decide to direct your social media marketing effort is completely up to you.
There can be great value in thinking outside the box when it comes to your social media marketing. Obviously you still want to maintain a presence on the most popular platforms like Facebook and YouTube, but branching out to some of the slightly less conventional platforms can have immense benefits. Sites like Pinterest can be incredibly useful, as well as mobile-only social media apps like Snapchat. But only if they make sense for your business, as not all platforms do.
Facebook still has the most users of any social media platform, but there is a clear trend towards real-time social media experiences. Using Google+ can have a very positive impact on your search engine rankings. Instagram, Twitter and Snapchat may have fewer users than Facebook, but their current daily use per user is considerably higher according to industry statistics. Additionally, these newer platforms are all highly optimized for mobile use. In the case of Instagram and Snapchat, they are exclusively accessible via mobile devices. This is important, because if you don't have someone on your staff already doing so, you should definitely be focused on crafting an effective mobile marketing strategy.
Pinterest, Instagram and Snapchat are all visually-based platforms. Recent years have shown a slight decrease in interactions with text-based social media posts and a spike in interactions with visually-based posts like photos, videos and GIFs. These newer platforms not only provide a great opportunity to reach out to a potentially new group of readers and followers, they allow your marketing effort the opportunity to achieve a heightened level of visual creativity that can have a major impact on the impressions that you make.
While each of these newer social media platforms has the potential to assist your social media marketing, it's important to figure out which are the most helpful for reaching your specific audience. So do your research, try something new, track your results and determine what strategy makes the most sense for your business or practice and best complements your more traditional marketing campaigns. For more information or assistance with your social media marketing, please contact McCauley Marketing Services today. You can also follow us on Facebook, Twitter and Google+ for more news and updates.