As a professional in any field, it is always important to maintain a positive reputation. This is especially true for doctors and medical practices. With matters pertaining to their health and wellbeing, patients need to feel like they are in the hands of someone who has proven themselves to be trustworthy, dependable, and exceptional at what they do. Reputation management has always been an essential component of healthcare marketing, but it is more vital than ever in the age of digital communication.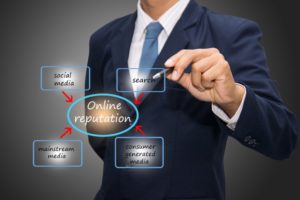 Today, patients have more ability than ever to let their opinions be heard thanks to social media use and online directories like Google, Healthgrades, RateMDs, and Vitals. This can be a great thing for practices that receive primarily positive reviews and ratings. However, a negative online reputation can badly affect a medical practices ability to attract new patients. A recent survey conducted by SoftwareAdvice found that 84% of patients consider online reviews when choosing between potential new medical practices. They also found that 47% of respondents said that they would prefer an out-of-network physician to an in-network provider with a less favorable online reputation.
As reputation management becomes more and more integral to medical practices of all kinds, it is important to be proactive about managing your online standing among patients. This requires encouraging happy patients to leave positive reviews and reacting accordingly when something negative hits the web. Here are a few suggestions that we recommend considering:
Keep a log of the reviews you receive on social media (Facebook specifically), Google, and other online directories like Yelp, Healthgrades, and RateMD's every month to keep tabs on your overall online reputation.
Encourage patients to leave reviews after their visits to help build up your reputation. A higher number of positive reviews can leave the impression of increased credibility to new potential patients.
This can be done in a variety of ways by providing patients with cards directing them to your profiles on key consumer ratings sites. You can also add a clickable link for key sites to your website or invest in a service to help with other potential strategies to improve your ratings.
Don't panic if you receive a negative review. Obviously do your best to treat every patient well. However, sometimes not every aspect of your practice's service will match every patient's standard. Some patients may get upset by long wait times or other factors that are our of your control like what their insurance may not cover. It's impossible please everyone.
In the case your practice receives a negative review, reaching out to the patient (if you know the patient who left it) or crafting a thoughtful response that acknowledges the patient's issue can show how much you care about how your patients feel and your ability to provide a positive experience in the future.
Be mindful of potential HIPAA privacy violations when responding to negative reviews. We recommend extending an invitation for the patient to call or come back into your office to discuss their issues in a more private setting if possible.
Establishing and keeping up a healthy, positive online reputation may be challenging, time-consuming work, but the benefits can often be plentiful. A positive online reputation can become a powerful competitive advantage for your practice. It takes is a bit of attention and proactivity. If you're too busy running your practice to worry about reputation management, we recommend contacting McCauley Marketing Services to schedule a consultation today. For more healthcare marketing tips, you can follow us on Facebook, Twitter, and Google+.