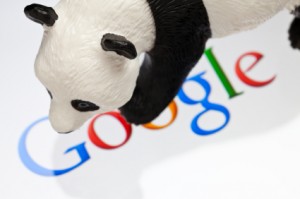 Successful digital marketing involves not only providing a website design that's useful for your customers and potential customers, but also ensuring your website is constructed in a search-engine friendly manner. Luckily, Google's latest Panda Algorithm update (that is, the way it filters and ranks websites in search engine result pages (SERPs)) is constructed to reward those sites that place utility at the top of their priority list.
According to Google's web master blog, "The goal of many of our ranking changes is to help searchers find sites that provide a great user experience and fulfill their information needs." While there isn't a hard and fast set of rules for copy writers and web developers to follow when constructing a successful website, Google and many reputable SEO authorities agree that the most "valuable" sites have the following attributes:
–Pragmatic page layouts. Promotes relevant content and linking to appropriate pages above the fold (Just like writing a press release, the most important content and contact information should be easy to find at the top of the page).
–Does not contain too many links or keyword phrases. Often the tool of choice for many black hat SEO schemes and web spammers, stuffing the web pages full of gibberish sounding strings of non-related keywords and links to similarly organized web pages will swiftly be pushed to the bottom of the search engine results.
–Socially Connected. Sites that provide consumers the opportunity to interact with websites are valued over those one-dimensional sites that only provide textual data. Giving readers platforms to comment on blogs and share articles on social media will be valued over one dimensional websites that don't offer the opportunity.
Perhaps Google's webmaster guidelines summarize it best when it comes to recommendations for writing for the web and building a website, "Make sure that your site adds value. Provide unique and relevant content that gives users a reason to visit your site first."
As a full service Atlanta marketing company, McCauley Marketing Services can vouch for the importance of a strategic online presence that effectively communicates your brand. If you'd like more information about the marketing services we provide, please contact our office or visit our website. Be sure to stay tuned to our blog for the latest SEM and SEO guideline changes. You can also connect with McCauley Advertising on Facebook, Twitter, and Google + for more search engine marketing news as it becomes available.