A successful marketing strategy is like a complex engine, composed of many different, interlocking parts.  Each of those individual parts has a vital role to play, but they all must also work together smoothly and efficiently, or else the entire apparatus breaks down and nothing gets done.  At McCauley Marketing Services, we pride ourselves on providing a comprehensive list of services to our clients, ranging from web design and search engine optimization to public relations and customer reputation management, and in order to do so we employ the services of a number of different specialized professionals.  Last month in our marketing blog, we highlighted the role that the graphic artist plays in our design process.  This week's feature focuses on the unsung hero of the advertising world: the marketing copywriter.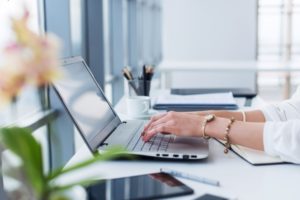 First off, contrary to common misconceptions, copywriting has nothing to do with copyright law.  At the most basic level, a copywriter does exactly what the name implies: they write copy.  However, in order to understand what that really means, you need to first understand exactly what the term "copy" entails.  Every word that you hear spoken in a television commercial or read in a magazine ad was first written proofread, and edited by one or more copywriters.  This is all considered to be "advertising copy" but it is really only the tip of the iceberg.  As social media marketing comes to play an increasingly important role in modern business, copywriters are called upon to research and write regular social media posts and to construct email campaigns.  They keep businesses actively trending by producing or sharing the content that people read when they visit a company website, by posting regular blogs that engage and inform, and often by constructing responses to customer comments and complaints.  A copywriter also produces important educational and technical documents, like internal white papers that detail the origins of a complex problem and how it can be solved or case studies that explain how a company helped its customers.  This technical writing can even play an instrumental role in company training by explaining technical procedures in easy to understand employee manuals.  Marketing is all about communication, and human communication relies on words.  Sooner or later, all of those words get filtered through a copywriter.
But, as any writer will tell you, typing words on a page is only a small part of what a writer actually does.  Most of a copywriter's day is spent in extensive research, either on line or in personal interviews, so that they can write about specialized topics with some degree of authority.  They also are responsible for maintaining a consistent and cohesive theme to a company's communications, and so work closely with graphic artists to choose images and format ads that blend into a seamless whole.  Finally, because what a copywriter writes or edits is published under the client's name, it is important that they be able to tailor their own written voice so that it faithfully resonates with the client's brand identity.  Their writing needs to shift between formal and conversational or between serious and light-hearted as needed, depending on the client's individual requirements.  Finally, they need to be thoroughly versed in the legal intricacies of different fields, like HIPAA privacy laws in the medical field or copyright laws in marketing, so that their clients are protected from problems down the line.
Part creative artist, part project manager, and part crises councilor, a copywriter stands at the heart of any successful marketing campaign, but they are only one element of the our McCauley Services team, and only with a strong team can a business become successful and stay profitable.  If you're a business owner who wants to bring a new level of professionalism and appeal to your website or marketing materials, schedule a marketing consultation so that we can help you determine what sort of services will most benefit you.  Finally, don't forget to follow us on Facebook, Twitter, and Google+ for additional tips about the world of marketing,