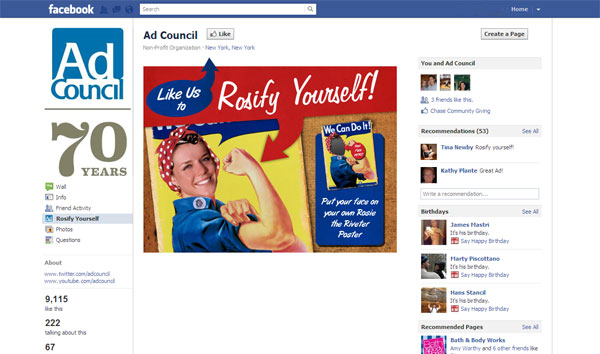 We have all seen public service advertisements, but have you ever wondered when or why they first came about? Back in the 1940s, it was common knowledge that something had to be done to help Americans get through World War II. In 1941, James Webb Young, a marketing master of his time, gave a speech entitled "What action can be taken?" expressing the benefits of public service advertising. As a result, President Franklin Roosevelt called leaders in the ad industry to come together to form the War Advertising Council in 1942, which later become known as the Ad Council.
Among the non-profit organization's first projects were "Rosie the Riveter" (a campaign to promote women working outside the home while men were away at war), "Buy War Bonds" (designed to finance war efforts), and "Loose Lips Sink Ships" (to encourage American society to keep war tactics quiet)—many of which are still well-known. Their efforts did not stop when the war ended, but continued to touch on issues relevant to the nation. In fact, some of their ad campaigns have run for over 60 years. For instance, the Smokey Bear campaign was created in 1944 with the famous tag: "Only you can prevent forest fires."
Though messages are still carefully geared toward target audiences today, the Ad Council has grown to accommodate an ever-changing market. Where they were previously focused around print advertisements, they are now producing television commercials, building websites, and most recently, joining social media networks to reach a larger audience. Even Smokey Bear has a Facebook page!
The Ad Council is a unique organization that has done a phenomenal job of getting Americans to react. This non-profit organization is funded by advertising and media agencies providing work or funds. Another unique point is their material: they aim to stay away from anything political that could potentially influence legislation. Instead they focus on matters such as driving drunk, littering, and other social issues. Their advertisements are not intended for profit; they are designed to make our society a better place.
McCauley Marketing Services applauds the Ad Council in celebrating their 70th anniversary this Saturday. They have set quite an example in the marketing world. Standing firm in the beliefs on which they were first founded, they have still managed to embrace new marketing strategies without compromising their brand. They're even using Facebook to help celebrate with a "Rosify Yourself" application where users can upload their faces into the "Rosie the Riveter" poster.
McCauley Services is glad to have agencies like the Ad Council for inspiration. For more marketing news and information review the rest of our website or connect with us on Facebook and Twitter. While you're on Facebook be sure to help the Ad Council celebrate and "Rosify Yourself !"