If you're browsing the internet, chances are you've seen a commercial or movie trailer on a website, a viral video on Facebook, or raw footage of the latest breaking news story. Video is everywhere now and it has been engaging audiences with rich content that can spread rapidly through social media and other methods of sharing. Video has become a vital component of integrated marketing, since it directly engages the user and demonstrates your company's brand identity. According to ComScore, the average viewer watches approximately 22 hours of online video per month. With the presence of online video increasing, it is important to take advantage of this big marketing opportunity.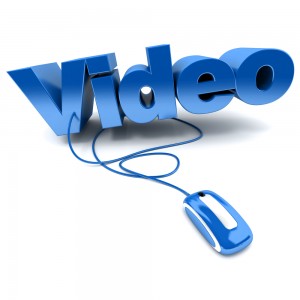 Today's market caters to the short attention spans of fast-paced social media and new technology users.  Videos can encompass text, images, music, voiceovers, slideshows, etc. and can reach beyond your target market. Unlike reading text where you can skim lines or listening to a message where you can tune sentences out, the viewer is consumed by the medium since it's viewed in its entirety. A consumer's comprehension of a video is often more immediate, and video can generate an instant emotional reaction from them. Content is especially important in video because, while a user can be fully engaged watching it, they can also just as easily click to disengage. Videos can permeate stronger brand awareness for companies and generate more traffic if content is high quality, informative, and entertaining.
In addition to targeting audiences, videos also benefit search engine optimization (SEO) since it ranks high on search engines such as Google, Bing, and the second biggest search engine-YouTube. Thumbnail images often accompany a video when it appears in search results. Videos can also be integrated into other marketing outlets, such as blogs or on social media to improve traffic to your existing content. The presence of videos helps increase the average time spent on the site and reduces the bounce rate. For small businesses, video can serve as a tool to make a large impact in their SEO to compete with larger companies.
McCauley Marketing Services focuses on new ways to expand SEO and brand awareness for our clients. Although there is no one direct method of SEO, we know it is important to increase website traffic and expand target audiences. To learn more about our services, continue to keep up with our blog and also connect with us on Facebook, Twitter, and Google+.