Just as many New Year dieters are cutting out unhealthy foods, some may soon be cutting phony 'likes' out of their social media menus. From celebrity fan pages to the U.S. State Department, many businesses have paid for likes from "click farms."  These organizations exist solely to like your statuses, pictures, and fan pages while viewing videos hundreds of times and incessantly retweeting to inflate numbers and garner your business more attention and supposedly, professional clout. At McCauley Marketing Services, we encourage our clients to be cautious of these organizations in order to avoid unethical business practices or the risk of account suspension.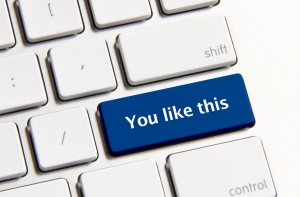 According to the Associated Press, click farms are no small business. While they charge as little as half a cent per click, the large market allows for millions of dollars to be pocketed. Because real people are actually clicking 'like' rather than a computer program, it is difficult to track which likes are paid and which are the real deal—but investigators are aiming to. Italian security researchers and bloggers Andrea Stroppa and Carla De Micheli reported an approximation that sales of fake Twitter followers have the potential to bring in $40 million to $360 million to date, and that fake Facebook activities bring in $200 million a year.
According to Business Insider, 74% of respondents to a survey in August 2013 said their Facebook marketing budgets include spending on paid ads, a 20% increase since June 2012. The type of "paid like" from a click farm differs from the likes garnered from a paid ad on Facebook, viewable through Facebook Insights. There are three types of paid likes on Facebook that make up the number you see in your insights:  likes from ads, mobile ads, and sponsored stories. For marketers, it is important to understand the impact of paid advertising and avoid attributing paid likes to efficacious community management strategies. In order to truly make an impact on an audience, it is important to focus trends that promote organic likes that cannot be attributed to paid advertisements.
In the end, paying for likes doesn't actually benefit anyone. In actuality, the return on investment (ROI) is low and your account is likely to be taken down. At McCauley Marketing Services, we teach our clients to focus on quality of fans rather than quantity. Fans of quality that are truly interested in your service or product will help you profit and grow your business far more efficiently than a large number of unresponsive fans that are unwilling to interact. Facebook does frequent purges of fraudulent accounts, which they estimate there are 14.1 million out of their 1.18 billion active users. They aren't alone:  YouTube took down billions of music industry video views last year after auditors found some videos apparently had exaggerated numbers of views. Google is also constantly combatting people who generate fake clicks on their ads.
While the Federal Trade Commission and several state attorney generals have cracked down on fake online endorsements or reviews on several popular review-driven websites, fake clicks are yet to be weighed in on outside of independent social media marketing organizations that focus on dissolving the illusion of fake fan bases. However, we don't doubt that they will be addressed in the future.
If you're interested in engaging your social media with ethical and effective practices, contact us today and learn the latest in marketing trends and tools. Be sure to connect with us on Facebook, Twitter, and Google+.