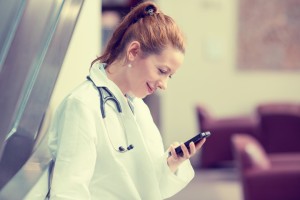 The times of traditional marketing keeps evolving and the means in which healthcare marketing strategies reach larger audiences has shifted a great deal over the past decade. We live in a mobile world – if a person has a question about anything, they can whip out their cellphone, perform a quick Google search, and get the answers they want instantly. On top of all that, the explosion of active social media platforms continues to change on a seemingly daily basis. Businesses are no longer able to deny the power of social media and medical practices are slowly finding their voice as they enter the big arena of social media campaigning. Visual social media platform Instagram is quickly gaining more popularity to rival that of Facebook (specifically among the 13-34 age range), so it's important to understand how this platform functions, who's using it, and if it's feasible to incorporate into your own medical marketing strategy. The question the McCauley Marketing Services team poses for the day is: Do you know how to successfully manage Instagram for your medical practice?
Launched in October 2010, Instagram currently has over 77.6 million users in the United States and over 400 million monthly active users worldwide. Only available as a mobile app, Instagram's platform is simple and easy to use on any Apple or Android device. Here's how it works:
Each user has their own profile page associated with a unique username of their choosing.
Users can "follow" other users to keep up with their recent posts on a continuing basis.
When users first log into their account, they are met with a running newsfeed of recent posts that have been shared by those accounts that they follow, as well as sponsored targeted ads that are integrated into your newsfeed as suggestions of pages to follow or products to buy on a particular company website.
Users can upload a photo or video (videos can be 10-30 seconds long) that followers can view and take several actions on such as: liking the image by clicking a heart icon to show the person who posted that you're a fan of their share, comment on photos directly, send posts to other users in direct messages or group messages within the app, and even tag other users in the comments so they get a notification to check out the shared image.
Users can keep their profile open to the public or private. For public profiles, any other active user can start to follow anyone they choose. For private, a request is sent to the profile owner who has the ability to accept their request, or deny it. This just gives users extra privacy when posting their own visuals.
Instagram uses special algorithms to suggest other profiles to follow based on your like activity and similar profiles that you already follow.
To post an image, you simply take a picture within the app or use an image already on your phone's library. Select a filter, add text, play around with borders, shading, blurring, etc., before you tag your friends, add a location, and ultimately click post to upload in a matter of seconds.
Seems easy enough right? The amount of hours that can be spent jumping from one profile to another profile (thanks hashtags, suggestions, and user tagging), make this a great time killer for many but it shouldn't be a time killer for your business plan. While Instagram doesn't require much learning, integrating it successfully into your marketing campaign is important. Since there isn't a way to pay for reach among an audience, your follower base can take some time to build up. Unless your content can really stand out among a sea of posts (there are 80 million photos shared a day!) – you can get lost in the shuffle much easier unless you happen to share the next viral post. Having hundreds of thousands of likes may be on the forefront of your mind, but the real key to Instagram success, just like other strategies, is having genuine content that's appealing in a way that makes people want to see what's going on with you on a regular basis. It's a voyeur's digital window into your perspective, your words, your personality, your typical life.
Before you rush off to start your business' Instagram account, keep in mind the dead ends that you can encounter. Since Instagram is mobile based, you'd have to designate someone on your team to be in charge of sharing what's going on in and around your practice frequently (daily, if possible). Have a patient who wants to be the model for a new skincare treatment? Snag a quick before and after, tag the patient, add a cool filter and a few hashtags, post and you're done. Just be careful, it's important to ensure the person posting on your practice's behalf is up on current HIPAA compliancy laws. It sounds easy enough, but if you're working with an off-site marketing team it will require a much greater team effort. You'd need to make sure that the pictures and videos are being sent in a timely fashion, that all details are included so they know what's going on and how to make an ideal caption (and too really avoid more back and forth communication than is needed), and most importantly, ensuring patients have given written consent to use their images for marketing materials. Often other users will unfollow accounts who post too frequently or not frequently enough, so keeping communication open to know who is posting what, and when, helps to decrease hitting these dead ends.
Instagram for your business can be a great tool for your patients to get to know you with images and videos when words aren't always required. It can be time consuming, and the fervor that you may have had in the beginning to stay dedicated can be hard to maintain during busy work days, but as long as you stay consistent and steadfast – you can really have fun with it!