For businesses of all types and sizes, social media marketing can be a fantastic way to reach an audience that may not be perceptive to traditional marketing methods. But it takes time and knowledge to fully grasp the best way to effectively utilize social media for your business. After all, your area of expertise likely lies in your field of business, not social media marketing. And like all forms of online marketing, social media marketing is constantly evolving. Outsourcing your social media marketing is often the best way to maximize the value of your marketing while maintaining your focus on whatever it is that you do best.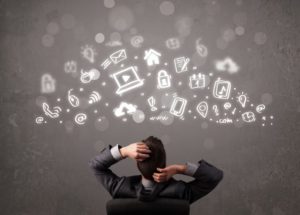 To help aid your search, the experts at McCauley Marketing Services have provided a few of the most important characteristics to look for when hiring a social media professional for your business.
Set Defined Goals & Objectives
Before consulting the pros, you must define what your goals are and how you plan to achieve them. Are you trying to raise more awareness for your company and what you're all about? Trying to boost sales? Trying to drive more traffic to your website? All of the above? Once you have these questions answered, talk to your potential social media suitors about how they plan to help you reach your objectives.
Check Out Your Competition's Social Media Presence
If you want an idea of how a certain social media expert will handle your accounts, take a peek at how your competition handles their social media. Make a note of what you like and don't like about their approach and ask your potential candidates what they would do differently. If one of your candidates has a philosophy drastically different from your own, they might not be right for you or your business.
Make Sure they are Well-Organized
Organizational skills are extremely important for any social media professional. Especially when you consider that it's highly likely that your business won't be their only client. Look for a candidate who will use analytical tools and an editorial calendar to keep tabs on your various pages and make sure everything is consistent and being posted or updated when and where it needs to as well as to track the results of your social media marketing efforts.
When put into the hands of a talented and experienced professional, your social media marketing can be a vital, integral part of your overall marketing plan. Seeking the help of a professional can help optimize the value of your social media effort and keep you focused on the things you care about most. For more information or to schedule a consultation, please contact McCauley Marketing Services today. Our staff will work hard to craft the marketing plan that best fits your business and helps you achieve your goals. You can also connect with us on Facebook, Twitter and Google+ for more marketing tips and updates.