Online marketing can be extremely competitive. In order to thrive, your business needs to reach out to potential customers in the places where they are most likely to receive your message. Today it's very common for consumers to use their mobile phones or other devices (like tablets) as their only source for internet access. This is especially true for younger consumers. Your marketing strategy should take this into consideration.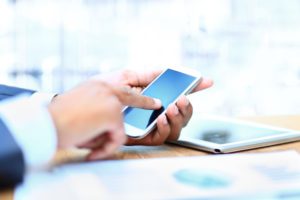 According to an article published earlier this year on VentureBeat, more than half of Facebook's current users access the social network through mobile devices only. This is not unique. Across the world, people are turning to mobile devices instead of desktop computers. A lot of this spike is the direct result of the prevalence of mobile devices and the inherent convenience with which they are accessed. Smartphones are seemingly everywhere these days. And the ability to call, text, email, browse the web, post on social media and more from the same handheld device has simply made desktop computers a bit unnecessary for many customers.
The first step in your mobile marketing approach should be ensuring that your business website is mobile-friendly or responsive. It's essential that your website be easily accessible via mobile, especially since Google now penalizes websites for not being responsive. Your website must also be visually appealing to the eyes when viewed on mobile devices or you'll risk turning potential customers away. Keep in mind that the screens on mobile devices are typically smaller thank desktop computer monitors. You must optimize photos and videos on your site to make sure they look right regardless of which device they are being viewed on.
The mobile boom has actually been a great thing for email marketing. Your email marketing should now be thinking of email as primarily a mobile channel. Email marketing campaign messages should be optimized for presentation on mobile devices. The email campaigns you send are no longer confined to the constraints of desktop devices. Your customers now carry their email inboxes with them everywhere and engage with them constantly.
Even more importantly, your company's social media marketing should be a huge part of your mobile strategy, but it's vital that social media works in tandem with your other marketing and not as a standalone option. Mobile users spend more time on social networking sites than anywhere else. According to SmartInsights, 31% of all mobile device time is spent on social media and more than half of that time belongs to Facebook alone. You should make use of fresh, creative imagery like charts and infographics to grab the attention of your readers. We also recommend trying your hand at video content. Videos can be a great way to engage potential customers.
We're in a new age of online marketing and it's your responsibility to keep up. Mobile marketing is the new normal and your digital marketing strategy should reflect that. If you have marketing questions you can always contact McCauley Marketing Services. We specialize in constructing, implementing, and maintaining fully-customized medical marketing plans that help our clients engage with their patients and reach new heights of success.