A huge part of growing any business is attracting potential new customers or clients to your website. And these days, people are far more likely to find your site via a search engine than by any other means. That's why it's so important for your business website to have a healthy presence on the most prominent search engines (Google, Bing, etc.) to help ensure that it may be seen by the largest audience possible. But when it comes to guiding traffic to your website, which is your better option: search engine optimization (SEO) or pay-per-click advertising (PPC) advertising? There are certainly valid cases on both sides, depending on who you ask. However, despite what some people may believe, you shouldn't have to choose one or the other.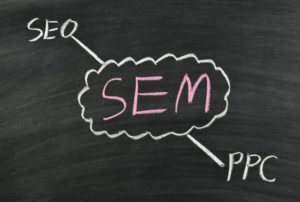 What makes pay-per-click advertising so great is its relative speed and expansiveness. With a PPC campaign, you can be on the first page for a number of your targeted terms within a day, as opposed to an SEO campaign that can take months (if not longer) to achieve this kind of result. When your company is new and you're trying to get your website off the ground, PPC can be a great way to get your name out there quickly to build initial brand awareness. PPC is also useful for getting the word out about limited time offers or special events, though this too can take months so plan accordingly. Though, all of your PPC terms can cost anywhere from cents to many dollars per click and this can get pricey, especially if you don't know how to optimize your PPC effort yourself.
Conversely, search engine optimization helps you improve your search engine rankings for free. This will take time and will require you to strictly follow the best practices of SEO and keep up with the ever-changing algorithms to avoid being shunned by the "SEO gods". And while it may not have the speed to match PPC, the free, more-specifically targeted traffic you can achieve through a well-executed SEO campaign will prove to be very worth your time and effort. Many industry experts believe that customers are far more likely to click on an organic search result cultivated over time through SEO than a PPC ad.
So how do you pick which approach makes the most sense for your business? Perhaps you don't have to. Here at McCauley Marketing Services, we don't think businesses should choose between SEO and PPC. Instead, we believe that businesses are best served using these 2 valuable tools in tandem. What better way to test if a certain keyword can have long-term value as an SEO term than to test it with a PPC campaign first?
Instead of competing against each other, using your SEO and PPC together can be a great way to improve your overall search performance and grow your brand over time. For more information on digital marketing or to discuss a comprehensive marketing plan for your business, contact McCauley Marketing Services today. You can also follow us on Facebook, Twitter, and Google+ for more helpful marketing tips, news, and updates.