With people watching more than 100 million hours of video on Facebook and nearly five billion video views on YouTube daily, it is clear that video marketing has definitely taken the social media world by storm. Given its amazing popularity, many small businesses and health care practices are interested in taking advantage of this platform, but may have trouble figuring out exactly how to begin. Fortunately, our expert staff at McCauley Marketing Services has been helping clients produce video content that is both effective and affordable for many years and can help provide some insight about what you need to get started in the world of video marketing.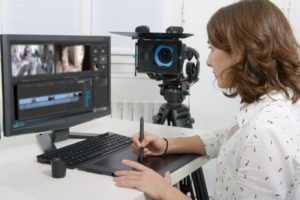 Preparation and Filming
Although there are many qualified videographers who can assist you, getting the right tools to produce useful video content is not as difficult as some may imagine. The latest smart phones can create excellent footage without the need for more expensive video equipment, and investing in a phone camera tripod and wireless lavalier microphone can really give your videos a professional look and feel. It is also important to take the time to plan out your staging and script ahead of time. Ironically, spontaneous dialogue will usually sound forced and inauthentic on camera, and many locations that seem fine in person are wholly unsuitable for video. When marketing health care practices, for example, many like to use videos for patient testimonials or to demonstrate procedures. These videos will look much more consistent and polished if you set aside a specific staging area where the lighting is optimal and distances are already measured to provide the best possible views.
Production and Editing
There are many different desk-top applications that will allow you to perform basic edits to your video including captioning, adding music, enhancing the quality, reducing background noise, and more. While using these programs can be time consuming, the benefits are numerous. The marketing professionals at McCauley Marketing Services will not only assist you with the production and editing process, but will also help you to market your video on social media platforms to make sure that it is seen by as many potential customers as possible. Most sources estimate that as many as 85% of video views on social media platforms occur with the sound off, so even a small touch like adding captions can dramatically increase your viewer retention rate and overall shares as well.
Promotion and Distribution
Having an interesting and informative video is a great start, but in order for your video content to have the greatest possible impact on your business it needs to be part of a larger content marketing strategy. The McCauley Marketing team will start by giving your video a "home base," either by helping you host it on your own site by posting it to a video-distribution platform like YouTube. We can then integrate it into your overall marketing plan by regularly sharing links to it on social media platforms and featuring it in blog posts. This approach allows your videos to promote your other web content while, at the same time, allowing your web content to spotlight your videos. The end result is a tremendous reach and significant return on your investment.
YouTube alone reaches more eighteen to forty-nine year olds than any broadcast or cable television network, so online video marketing is clearly here to stay. If you are interested in adding a video marketing plan to your existing social media strategy, would like to expand your presence on social media, or have any other marketing questions, don't hesitate to contact McCauley Marketing Services today. Be sure to also connect with us on Facebook, Twitter, and Google+ to keep informed on all the latest marketing news.