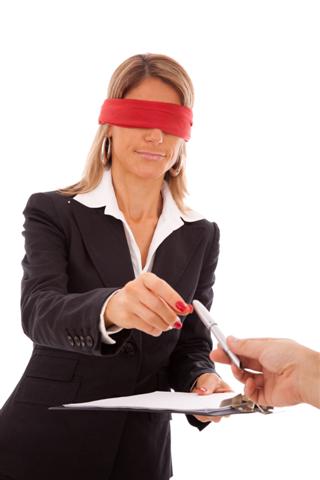 Hidden camera advertising campaigns have been around for a while. You've probably seen them yourself.  Product makers tell unsuspecting consumers that they're getting one type of product (usually a fancy, costly piece of merchandise or service) while they really give them a less expensive product.  These companies are out to prove that their reduced-cost brand performs just as well as its more expensive counterpart.  Meanwhile, manufacturers are recording the whole experience, including the reveal in which unsuspecting consumers are told the coffee, shampoo, pizza, they are enjoying is a completely different brand.  This is the part where product-makers expect surprised, but pleased reactions.
ConAgra Foods attempted a similar ploy, but instead of pleasant surprise, they were met with discontent and even anger.
According to a New York Times article, ConAgra Foods invited a group of food and mommy bloggers to a dinner event that was supposed to be hosted by a celebrity chef at a swanky New York restaurant location.  The bloggers were told they would be discussing food trends like organics and chemicals used in food and also receive a pair of prize tickets for one of their blog readers.
At the end of the night, it was revealed that their celebrity chef-prepared dinner was in fact a new version of Marie Callender's frozen lasagna.  Instead of delighted disbelief, the bloggers reacted negatively to being tricked into eating something other than what they thought, and like true bloggers, they took to the internet to express their indignation.
One blogger said their discussion on organic and non-processed foods went completely against the meal they were served.  Another complained that she was not part of their target audience and is annoyed that she was included as an attempt to get her to write about their product in her blog.
ConAgra's marketing mistake is an example of a marketing strategy that could have used more careful consideration. The head of the Board of Ethics and Professional Standards at the Public Relations Society of America, Deborah A. Silverman, admits that while the promotion wasn't the most honest, the branch of public relations dealing with social media and blogging is still being felt out in terms of boundaries. However, Silverman acknowledges that this incident serves as a good learning opportunity.
Many bloggers feel as though their job is to bring truth and real-world perspective to their readers, and being tricked into eating food that is against their blogging missions served less as a "light bulb" moment, as ConAgra has hoped, but instead as a public relations fiasco.
We at McCauley Marketing Services understand the importance of thinking outside the box when it comes to catching the attention of consumers.  However, an important part of customer relationship management is knowing your customer base and weighing the pros and cons of potential campaigns.  ConAgra may have misstepped in their attempt to recreate a classic commercial scheme, but their public relations company is attempting to ensure the bloggers have no hard feelings first by apologizing, secondly by offering to reimburse the bloggers for any costs (cab fare, babysitting fees) their event may have caused, and thirdly by vowing not to air the footage taped at the event.
While the best public relations policy is to avoid mishaps like ConAgra's with thorough market research for your product, making certain to apologize for any public relations mistake is of utmost importance. Just like when you make a mistake with friends, a sincere apology along with reparative measures goes further than many people think. While the New York bloggers may swear off frozen lasagna, ConAgra still has the chance to start anew and regain their marketing integrity.
McCauley Marketing attempts to prevent these types of public relations disasters by carefully investigating the target demographic before implementing any advertising campaigns while making certain to avoid any campaign that could potentially result in a negative depiction of any client. We understand that everyone makes slips up, even big, corporate PR firms, but prevention is best because it's always hard to regain people's trust and it's equally difficult to conduct public relations' clean-up given the instant sharing ability of content sharing platforms and social media.
For more information on McCauley Marketing Services visit our website.  If you haven't already, be sure to connect with us on Facebook and Twitter.