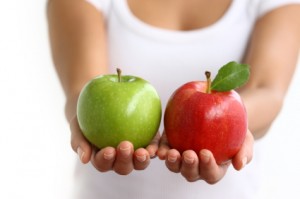 Building a successful brand or company image is a lot like trying on a swimsuit under fluorescent lighting:  you've got to see the good, bad, and the ugly before you can decide what works best.  McCauley Marketing Services heeds this advice with every Atlanta customer relationship management campaign we undertake.  A business or brand can only truly grow after laying all its cards on the table and comparing them with everything a "competitor" is offering.
The term "competitor" is used here with the best connotation possible (think healthy competition).  We're talking about companies within your respective industry which provide comparable goods or services to your company, or provide what you hope your own company eventually will.  Comparison is valuable because it has the potential to highlight your company's innate strengths (i.e. – exceptional customer service, superior product, etc.) and also identify what you can improve.  Who knows, maybe a little competition research will be the inspiration you've been seeking to finally make a business model change.
Research doesn't have to be underhanded or sneaky.  After all you too are a consumer, so approach other companies as such- how do their services serve you (and your audience) better than the services you offer?   Below are a couple of marketing tips on how to begin researching:
•   Join the conversation: Use social media tools like Facebook and Twitter to see what consumers of your particular product (and your competition's product) are ultimately seeking.
•   Engage in active networking: Attend networking group meetings or even your competitor's (and client's competitor's) events.  See what's getting their audience's attention and how you might be able to adopt their example to fit your company's needs.
•   Know the News: In a world that's habitually plugged in, it may seem daunting to try and stay on top of the news, but it's vital for business owners.  Customers value a business that strives to keep them informed more than those that are merely after their money.  By disseminating industry specific news through social media or newsletters, your company will prove it has its customer's best interest in mind.
The goal of competition research is much like the mission of McCauley Services: to design profitable campaigns to strengthen your success.  Don't be afraid to plug-in and listen up, you'd be surprised how much you can really learn by just watching.  For more information on the ever changing world of small business marketing, visit McCauley Marketing Services' website or blog.