At McCauley Marketing Services, we love finding new ways to tell the world about our clients' businesses. But getting your company's name in a consumer's ear is only half the battle. Especially in the medical industry, consumers tend to go online to learn more about a business before they actually make a purchase or schedule an appointment. This is why online reputation management is so important—if someone does a web search for you and the first result is a one-star rating from a review site, they're likely to move on pretty quickly. Below are five of the most common mistakes companies make when it comes to reputation management—along with tips on how to avoid them.
Not taking online reviews seriously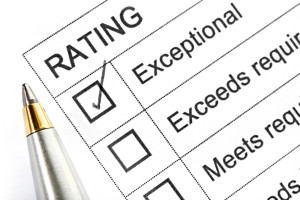 Yes, it's true that only a handful of your customers will post online reviews, and that sometimes reviewers can make exaggerations. In fact, some reviews are posted not by customers at all but by someone who simply has an ax to grind (like an ex-employee), which is why many companies take these reviews with a grain of salt, so to speak. But for someone who's deciding whether to use your business, chances are these reviews are their only way to determine if you deliver on your promises, so you need to take them seriously. In general, respond to every review—give a friendly "thank you" to those who leave good review, and when a bad review is posted, reply in a way that shows that you're listening to their concerns and offering a solution. Anyone who sees the poor review will also see your response, and it lets them know that you care about your customers and you make an effort to fix any potential mistakes.
Using the same response for multiple reviews
Just like the public can see your response to one review, they can also see the responses you've posted to every other review, so it becomes painfully obvious when a company uses a cut-and-paste response. The purpose of replying to reviews is to not only communicate with that customer, but to allow potential customers to see that care, and an insincere form letter does not support that image. Our skilled copywriting experts can help you carefully craft a response that conveys your concern or gratitude and paints you in a positive light.
Revealing too much information in your response
While medical professionals have specific HIPAA guidelines that indicate how much information they can and cannot state publicly, this rule applies to all companies. While you should be specific enough to show that you're taking the customer's unique concerns into consideration, you don't want to reveal additional details about the situation (for instance, instead of, "we called you three times to cancel your appointment but you never answered," stick to, "we understand that there was a miscommunication"). Otherwise, potential customers may grow concerned that you won't take their patient privacy seriously.
Matching an angry review's tone
Yes, there may be times when a customer is upset about their experience, and their solution is to unleash their fury with an angry tirade on your social media pages. When you respond, keep in mind that you want to be seen as a professional (especially if you're in a highly trust-dependent industry like healthcare). Readers will have far more respect for you if you maintain a calm and respectful tone than if you resort to the playground logic of "you hurt me, so I'm going to hurt you back."
Neglecting to add good reviews
Let's say you've received four negative reviews over the course of several years. If you only have six total reviews, it will look like two-thirds of your customers leave unhappy, but if you have thirty total reviews, those four negative ones are far less significant and, in fact, begin to look less credible. So, regardless of how your reviews currently look, consistently encourage your happy customers to post their positive experiences online. You may consider sending these customers an email with a link to a review site to make the process quick, or having flyers printed and ready to hand out which include review sites and posting instructions.
There's certainly an art to effective reputation management—you need to be vigilant but not overbearing, specific but general, respectful but not overly generous. To start discussing how we can manage your reputation and give you a stronger and more positive web presence, schedule a meeting with McCauley Marketing Services. Or, for more helpful marketing tips, follow us on Facebook, Twitter, and Google+.