It goes without saying that marketing is constantly evolving. If you compare today to fifty years ago, not only do companies reach consumers in different ways than they did back then, but even the messages that appeal to consumers have changed. Keeping up with what your audience (and, most importantly, your preferred demographic) wants is crucial, so to help you stay ahead of the curve, we've gathered some of the top marketing trends that will benefit the healthcare industry this year.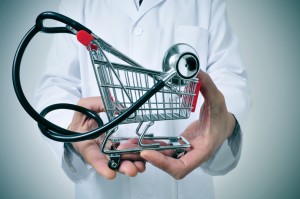 Access to Information
When most consumers want quick information about their health, the internet is often the first place they turn. This is important to healthcare companies for two reasons. First, it explains why search engine optimization (SEO) is so crucial. Your audience will find the information they're looking for, but SEO is what decides whether your website is the one that they now see as a reliable and helpful resource or if they develop that trust with one of your competitors instead because your site didn't show up in their search results.
The second reason the public's desire for quick information is so important to you is because it tells you what type of content you should focus on. Patients today want quick and helpful answers, not pages upon pages of sales pitches, so focusing your web content (and those consistently updated blogs which are so vital for your SEO) on educating your audience rather than selling to them will both attract more web traffic and help those readers see you as a trusted professional who they'll turn to the next time they need your services. However, in all of your marketing efforts, all companies in the medical industry need to be particularly cautious about maintaining the patient privacy guidelines set by HIPAA. This is a crucial consideration to keep in mind both online and in other mediums.
Social Media
Do people search social media to decide which dermatologist to go to? Perhaps a few, but the real reason your social media activity is so important is because it's a way to build your reputation and your brand in patients' minds. Think of it this way: a patient has decided to have plastic surgery. They may start looking for a surgeon by using a search engine to find a list of surgeons in their area, and at first, all those names are going to blend together. But if they notice your name on the list and remember seeing your professional, warm, and helpful social media marketing posts because some of their friends have shared or "liked" them, you'll be the first one they'll take a closer look at.
Convenience
Consumers today are busy, and the world knows it. It seems like every month there's a new process that's been streamlined and made quicker and easier, from placing orders online with a single click to watching your favorite TV shows commercial-free whenever you want. Healthcare is no exception. By building features into your website that allow patients to schedule or request an appointment at the drop of a hat, to have quick questions answered by doctors, or to find out what to expect on their next bill, you can both be a more attractive option for new patients AND keep your existing patients happier so they're more likely to refer their friends. But remember, especially with Google's algorithm update last April, you also need to cater to your patients' need for convenience by making your website mobile-friendly, because failing to do so can cause a steep drop in your SEO. It's also crucial to keep customer service as a priority; just because your consumers want convenience doesn't mean they don't want a personable and professional staff who's attentive and available to answer their questions.
Online Reviews
Finding a healthcare provider can be a difficult process because patients need to put so much trust into their doctors' hands. That's why referrals from existing patients still are (and probably always will be) a strong part of the medical industry. But now, patients have even more resources to hear from others in the form of online reviews. Reputation management needs to be a vital and constant part of your marketing plan in the coming years. Unfortunately, even the most successful of companies will probably have a negative review or two arise, but you can counteract their effects by responding in a very professional and non-defensive manner, as well as encouraging as many of your happy customers as possible to post reviews as well.
Putting trends like these into practice for your healthcare company can make a marked improvement in your business, but remember, it's all relative. Not every platform or strategy will work for everyone, even within the same healthcare industry, so the approach a medical equipment distributor takes could be night-and-day from that of a family physician's practice. Your strategy needs to be designed with your brand, your demographic, and your operations in mind – advertising qualities which don't actually align with the reality that your patients experience is simply a recipe for a lot of unhappy customers who won't hesitate to spread the word. To start discussing a marketing plan that's ideal for your unique needs, schedule a meeting with McCauley Marketing Services. Or, for more helpful tips for your business, follow us on Facebook, Twitter, and Google+.